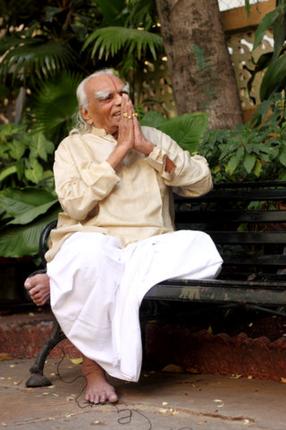 Yogacharya B.K.S. Iyengar passes away at 95
Yoga guru B.K.S. Iyengar breathes his last
The nonagenarian yoga guru was admitted last Tuesday after complaining of breathlessness.
World renowned yoga exponent B.K.S. Iyengar passed away at a private hospital in Pune on early Wednesday morning. He was 95.
Mr. Iyengar, who was admitted to the Prayag Hospital last week, breathed his last at 3.15 a.m., doctors attending to him said.
He was put on dialysis since Sunday owing to renal failure. Mr. Iyengar, who abhorred hospitals and clinics, failed to respond to the treatment owing to heart problems brought on by advanced age.
Despite suffering two massive heart-attacks in 1996 and 1998, Mr. Iyengar, with his near-legendary regimen and discipline, rebounded and kept up a punishing teaching schedule, touring Russia and China in recent years.
Born Bellur Krishnamachar Sundararaja Iyengar in Karnataka's Kolar district in 1918 and debilitated by illnesses since his childhood, he codified Patanjali's yoga sutras in an innovatively dynamic yoga style which came to be known as Iyengar Yoga, winning millions of followers in more than 70 countries of the globe in the process.
He set forth its principles in Light on Yoga (1966), which has since been regarded as the bible of yoga. The book has been translated into 19 languages and has sold more than three million copies.
Most importantly, he opened the doors for his discipline, making it accessible to all regardless of class, caste and religion.
Mr. Iyengar, who was awarded the Padma Bhushan and the Padma Vibhushan, gritted his teeth to master English and exposed yoga to the West, teaching such luminaries like violin maestro Yehudi Menuhin and author Aldous Huxley.
"I have lived a majestic life," were reportedly his last words according to his family physician and disciple, Dr. Manoj Naik.
Deeply religious, he always kept yoga and religion separate, said his family priest and disciple, Natraj Shastri.
"He was a phenomenal person, compassionate, sensitive, caring and broad-minded. He was instrumental in revitalizing an ancient art and taking it to an international level," said Harit Iyengar, his grandson.
Over the last decade, he strove to transform his ancestral village of Bellur by building a free hospital and ushering in water and education facilities.
His last rites were performed at the Vaikunth crematorium here at 1: 30 in the afternoon. The sandalwood pyre was lit by his son Prashant.
"He was a one-person movement…we will strive to keep his Sadhana (legacy) alive. He has achieved eternal peace. He was open to everyone even till his last breath," said Geeta Iyengar, his eldest daughter.
She said that Mr. Iyengar's family members and others associated with him would keep the institute going on.
Our New Delhi Special Correspondent adds:
President Pranab Mukherjee led the nation in expressing grief on the demise of Yoga guru BKS Iyengar, who passed away after an illness in Pune on early Wednesday morning. In a condolence message to his son, Prashant Iyengar, the President said he was deeply saddened to learn about the passing away of Mr. Iyengar.
"He was well known as one of the foremost yoga teachers in the world. He is credited with establishing and popularising modern yoga first in India and then across the world. He created a unique school of yoga popularly known as 'Iyengar Yoga' and authored several books on yoga practice and philosophy which are considered authoritative texts used by practitioners, young and old," the President wrote.
Prime Minister Narendra Modi also condoled the passing away of Yogacharya Iyenger. In his message to the Yoga guru's followers, Prime Minister Modi said: "Generations will remember BKS Iyengar as a fine Guru, scholar and a stalwart who brought Yoga into the lives of many across the world."
Union Minister for Information and Broadcasting, Prakash Javadekar hailed him as a "great lion of Indian yoga".
Mr. Iyengar was honoured with Padma Shri in 1991, the Padma Bhushan in 2002 and the Padma Vibhushan in 2014 in recognition of his services to spreading knowledge of Indian culture and tradition globally.