Yoga Loses Luminary BKS Iyengar, 1918–2014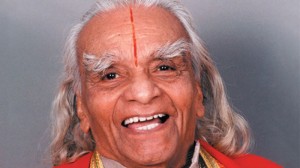 "Yoga is the golden key that unlocks the door to peace, tranquility and joy." —BKS Iyengar
BKS Iyengar, 95, who handed many modern yogis that golden key, "left his mortal body" Wednesday morning, a spokesperson said. The founder of one of modern yoga's most prominent schools was admitted to the hospital on August 12th for heart troubles reportedly after much persuasion from family members. His condition had since been steadily deteriorating. Put on dialysis over the weekend, his kidneys failed to respond to the treatment and he ultimately suffered renal failure.
Born December 14, 1918, in Karnataka, India (originally known as the state of Mysore), Iyengar was destined to be the Guruji so many people know today from day one. His father, Sri Krichnamachar (not to be confused with Sri T. Krishnamacharya, his guru), was a school teacher, who passed the gift of tutelage on to his son. Iyengar began studying yoga at the age of 16 with Krishnamacharya. At 18, his guru sent him to Pune to teach and preach yoga. He went on to instruct everyone from International heads of state to Hollywood actors. It was his encounter with the violinist Yehudi Menuhin in 1952 that led to the spreading of his teachings to the West. His book, Light on Yoga, became a veritable bible for teachers and students and transformed yoga into the practice as we know it today.
In 2008 Iyengar told Yoga Journal:
"Even now, the maximum my body can do, I do. I am 90, and still I practice. I stay in Sirsasana (Headstand) for half an hour, even without shaking. I'm improving still, progressing still. That is why I am still practicing with such energy. The mortal body has its limitations. Therefore, I will still practice 'til the last breath of my life so that I do not become a servant of the mind, but rather the master of the mind. Old age makes a strong man say goodbye. I am breaking the fear complex and living with confidence."
His practice lives on long beyond his last confident breath. Namaste to one of the strongest of men.
—Jessica Levine